PAY BY CREDIT CARD
PlayAlday is using a third-party processor called Partial.ly. This secure service holds your credit card information and only processes the payment when PlayAlday is notified that the recipient has received a bid.
Your card will not be charged if the recipient does not receive a bid, and you can cancel your payment at any time for no charge.
You must create a Partial.ly account at the link below and submit your information.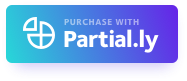 CONTACT PLAYALDAY
We're happy to help. Shoot us an email if you have any questions.