PAY BY CREDIT CARD
PlayAlday is using a third-party processor called Partial.ly. This secure service holds your credit card information and only processes the payment when PlayAlday is notified that the recipient has received a bid.
Your card will not be charged if the recipient does not receive a bid, and you can cancel your payment at any time for no charge.
You can create a Partial.ly account at the link below and submit your information. Orders will be processed on August 24.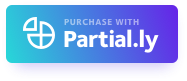 PAY BY CHECK
To pay with a check, mail payment to the address below. Please indicate the recipient's name on the memo line.
Tiffany Alday
PlayAlday
144 Southeast Parkway, Suite 250
Franklin, TN 37064
CONTACT US
We're happy to help. Shoot us an email if you have any questions.