University of Tennessee - Bid Day Gift Box
Recruitment is right around the corner and Bid Day will be here before you know it. For the 4th year, parents have the opportunity to purchase a special Bid Day gift box for their daughters. Featuring customized products for their selected sorority, these Gift Boxes will be delivered to your daughter on Bid Day.
In order to guarantee delivery on Bid Day, orders must be placed by August 20. Payments will only be processed if your daughter receives a bid from a sorority. If she chooses not to complete the recruitment process, your pre-payment will NOT be charged.
How to Reserve Your Bid Day Box
Choose your payment option and follow the instructions to complete the payment.
Payment Options:
Mail check to Play Alday.  Further instructions and mailing address are on order confirmation page. 
Credit/Debit Card - Set up a Partial.ly account and submit credit card information for processing on August 23.
Once you complete the order form, the order confirmation page will have further payment instructions. No checks or credit card payments will be processed if the recipient does not complete the recruitment process.
View the products available in each sorority box below. All products in each box will be for the same sorority.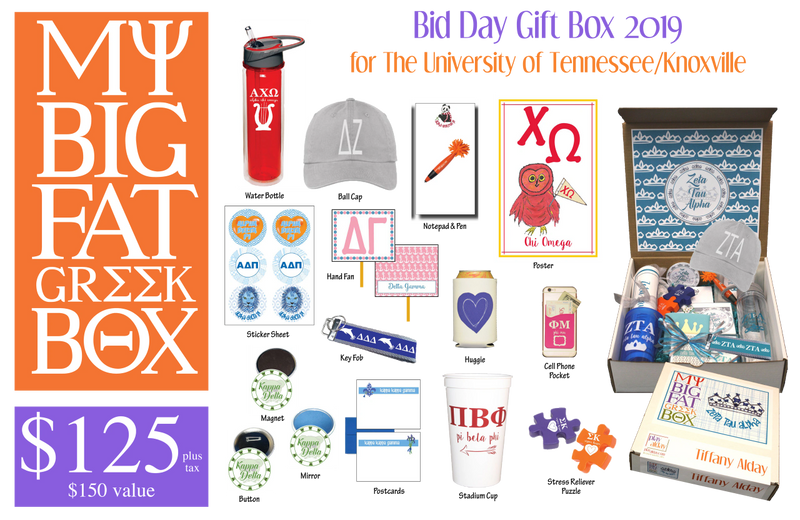 2018 Parent Testimonials
"YAY – My daughter received her box!! It looked so fun and happy – and I loved how you displayed our note"
Debbie V.
"Thank you. She received it and was so excited."
Gerri B.
"It made for an extra special surprise."
Karen A.
"My daughter loved this surprise and all the goodies – fabulous gift."
Josephine P.
"My daughter received her box and loved it!"
Laura W.
"Thank you!!!! The box was awesome!!!!"
Sonya S.
"Thank you so much! She loved her box!"
Kristen G.